Today I want to talk to you in more detail about Fairbnb.coop.
I will focus on two things. The first is to explain to you why I have been involved in this project. The second is to ask for your support to spread our crowdfunding campaign.
I tend to be very impulsive, in the sense that I get excited very quickly about things. This is not always good because in the long run it generates a waste of energy, and an endless dispersion. That's why I'm trying to measure my commitments a lot more. In fact, I've known about the project for a while now, and at first I didn't want to get involved. The truth is that in the end, also thanks to the insistence of my friends Jonathan and Sito, I ended up joining. The project is too good 😉
One of the things I always have in mind is the need to not stay too much in the theoretical or the ephemeral. That's why I love to surround myself with people who take action and allow me to land and concretize, that's why I've enjoyed projects like Dreamhamar with Ecosistema Urbano, the Volumes space in Paris and the Colector space in Valencia.
Fairbnb.coop is another way for me to take action. The opportunity to bring together my passion for networks, digital platforms and physical-digital hybridization with a glocal and extitutional approach, all together in a single project…… And this is not even everything….. The project also becomes a super challenge to face gentrification practices. All this by proposing a viable economic model centred on what has been called Platform Co-operativism.
But let's see…… So what is Fairbnb.coop?
Fairbnb.coop is a holiday rental platform designed to connect hosts with visitors in a way that returns benefits to cities. Fairbnb.coop offers a fair, collective and transparent alternative to other platforms. A collective project that aims to re-imagine and rework how cities, their residents and visitors can make the holiday rental process fairer, more sustainable and more rewarding for the whole community.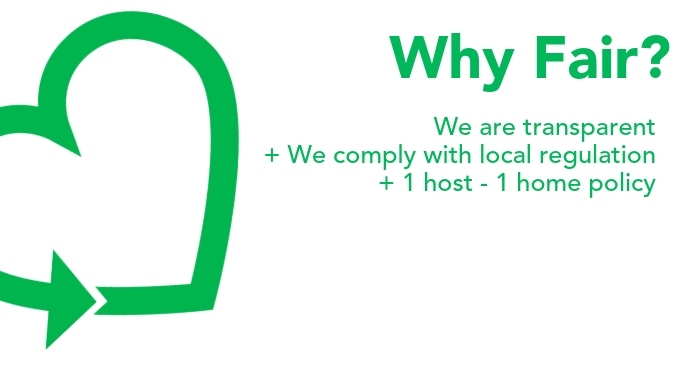 Six key elements of the project:
+ We foster local economies: Half of the commission charged by Fairbnb is returned to the local community, sustaining projects selected by local residents.
+ Local Nodes are the engines at the center of our organization and represent the engine that connect the people in the territories making human interaction the real "technology" of Fairbnb.coop.
+ We are independent. Our platform is owned not by faceless investors but by those who work in it, use it and are impacted by its use.
+ We operate with co-ownership and co-governance.Our Decisions are made collaboratively under a distributed governance model.
+ We are 100% compliant with local regulations and enhance them with suggestions by local communities.
+ We apply a 1 host – 1 home policy preventing multi-hosts in the platform in order to limit the effects of short term rentals on the housing market.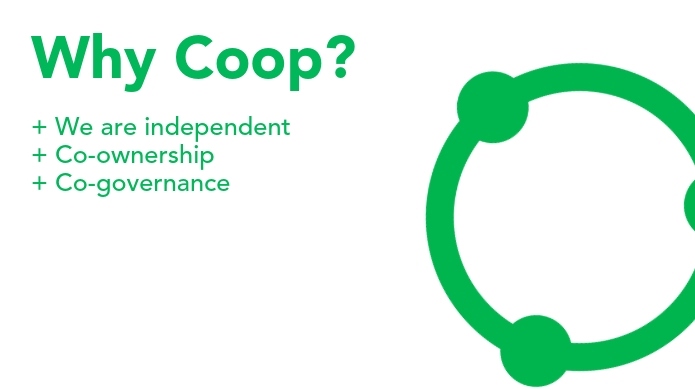 Our commitment to creating an alternative that is sustainable, innovative and accountable to communities has led us to avoid large investors and venture capital. Instead, we have relied on cooperative financing.
Our idea is to continue without going through the typical start-up processes that end up depending on large investment groups.
This is why, in order to accelerate and reinforce the project, we have activated a crowdfunding campaign.
Our campaign is developed in two directions.
On the one hand, we are raising funds to improve the digital platform. To do this you can visit the INDIEGOGO page.
On the other hand we are raising funds to strengthen our relationship with the territories in which we will be present. For this part we love to have GOTEO.
To do this we want to finance the launch tour of Fairbnb.coop in Spain in five cities: Madrid, Barcelona, Valencia, Bilbao and Seville. This tour, which will consist of participatory workshops, will be crucial to raise awareness about solutions to over-tourism as well as to involve residents and other actors in the creation of local Fairbnb.coop nodes.
The campaign offers you 4 types of returns: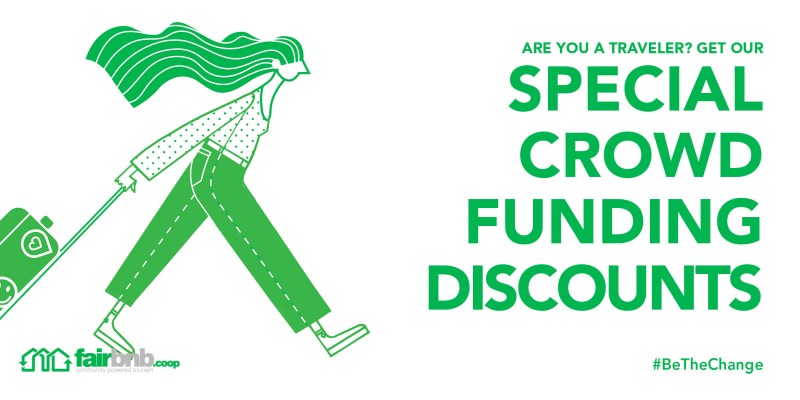 Special discounts!
If what you are looking for is to be able to take full advantage of the platform for your trips, you will love the rewards that give you special discount. There are still some in limited edition that offer you twice your contribution in the form of a discount to spend on the platform.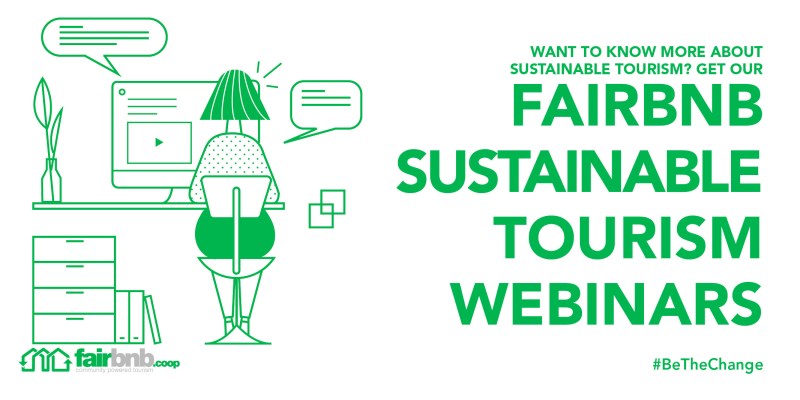 Webinars
If what you are looking for is the opportunity to learn more about our project and learn about Sustainable Tourism, or want to discover how to improve your way of hosting people, we have two types of webinars (collective online sessions) that may interest you.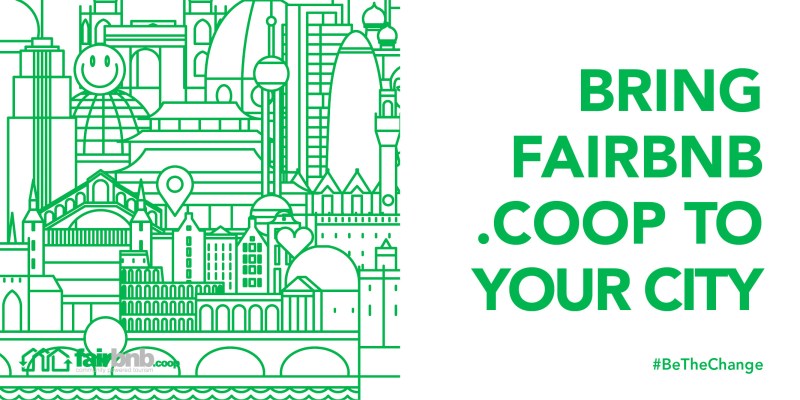 Bring Fairbnb.coop to your city
If you are looking to bring Fairbnb.coop and its fair and innovative approach to your city, we have a perfect reward for you. Get a specific analysis about the vacation rental and tourism impact in your city/area plus a meeting with one or several members of our team to value the option of having your city as a future destination in our platform.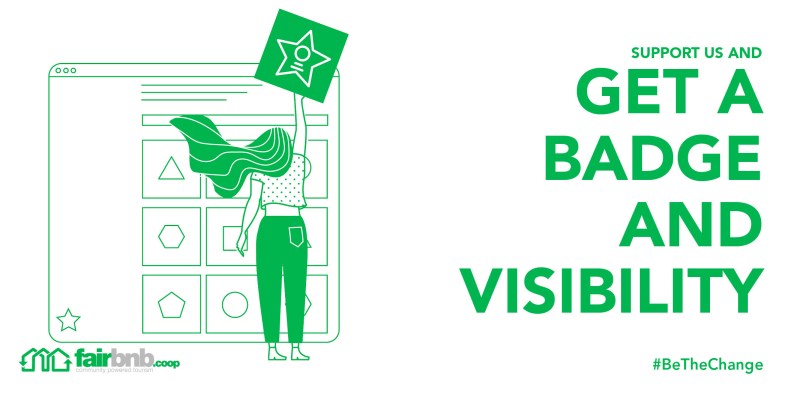 Get a badge and visibility
If what you want is that your future profile in our platform I have a differential point this is your opportunity. You can get a badge (special badge) that will differentiate you from those who supported us in the campaign.
You can access our two crowdfunding platforms:
GOTEO > https://www.goteo.org/project/fairbnbcoop
INDIEGOGO > https://igg.me/at/fairbnbcoop
If you like Telegram you can follow the news in our specific channel > https://t.me/fairbnb