The last February for 15 days Medialab Prado has become my office to develop the project [common]: loclafeed under the Open Up workshop.
The aim of the project is to display in the new digital facade of Medialab Prado daily information porduced online by neighbors moving the public internet space physical information that generally is accessed privately.
That's how I presented the project the first day at Medialab Prado:
The experience has been very interesting especially thanks to the many contributors who have signed up to help with the project: architects, sociologists, anthropologists, philosophers, artists, researchers and students.
The first was to define the identity (or brand) project, and we decided to change from "Localfeed" to "Plazaletras" because we were working with a digital facade installed in Plaza de las Letras in Madrid.
Alfonso was responsible for assembling all the web part, working at www.plazaletras.es portal. The web portal represents a major point of contact and interaction between the neighbors and the digital facade. The portal lets users add a sentence of 140 characters or the RSS feed from a neighborhood blog or a local online news portal.
To disseminate the project we worked with social networks most used in Spain: Tuenti, Facebook (https://www.facebook.com/plaza-letras-304228807308/) and Twitter (@plazaletras). We only contact with neighbors or those visiting the neighborhood. Tuenti is being a surprisingly interesting tool because it allows search among all users using as a parameter the school where they have studied or nightlife district; in our case we looked for people who have studied in the only school in the district and people going out in this neighborhood.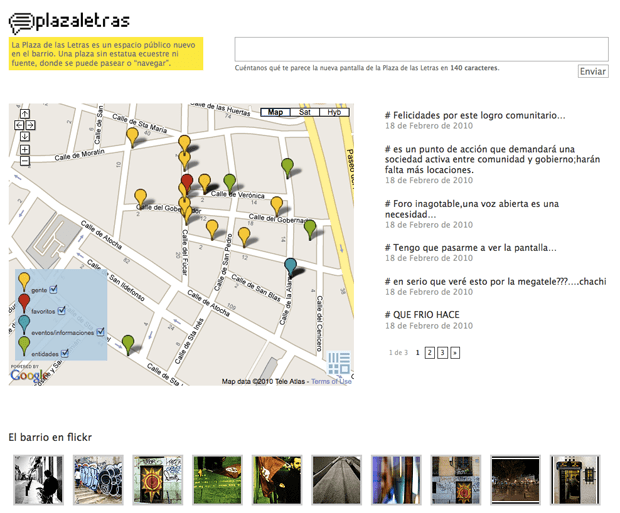 Another part of the work is to search blogs published by neighbors, so we looked for it on the network www.ciudadanosdemadrid.net, http://www.directorioblogs.es and similar aggregators.
During the 15-day workshop we have dedicated ourselves to connect with neighbors and we have also launched various activities in the streets surrounding the Medialab Prado. We have published a brochure presenting the project and disseminated it within the neighborhood.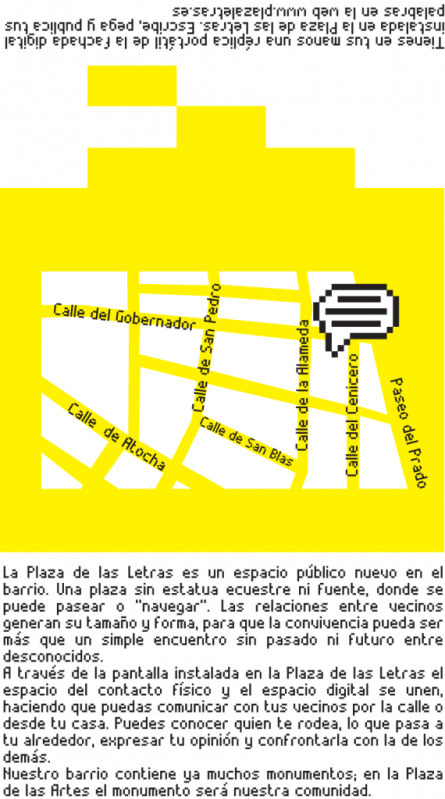 We used post-it like a guerrilla marketing. We've cut them to the shape the screen so that they became as iconic as possible and we have filled the neighborhood with post-it type that you see in the picture.
To publicize the project we have developed two videos, one edited by Francesca,
and other edited by Angie.
I take this opportunity to acknowledge the help of all collaborators:Sara, Alvaro, Bea, María, Clara, Reinaldo, Alfonso, Johannes, Angiola, Anibal, Massimiliano, Cristina, Francesca, Rolando, Conso, Angie. I would like also to thank Francesco (Paris), Paco (Seville) and Nuno (Coimbra) whom have advised us from a distance and Ethel Baraona has encouraged us a lot with this article in the Blog Arkinet.