Since the past month of December I'm working on a new ambitious project called CivicWise.
CivicWise is a distributed and open community. It's mission is to empower citizens by fostering collaborative urbanism, promoting civic innovation and inspiring better civic engagement. CivicWise wants to canalise and use the global knowledge to improve any local civic project, involving people all around the world that are facing similar problems.
The project is Open Source and developed with Distributed Governance. Anyone can become part of it.
CivicWise wants to canalise and use the global knowledge to improve any local civic project, involving people all around the world that are facing similar problems. The aim is to federate the global knowledge and experience and use it for local action.
To achieve it we have to change the way how we work. It's why, one of the main innovation that CivicWise introduces is a Distributed Governance and a Peer to Peer Advice System.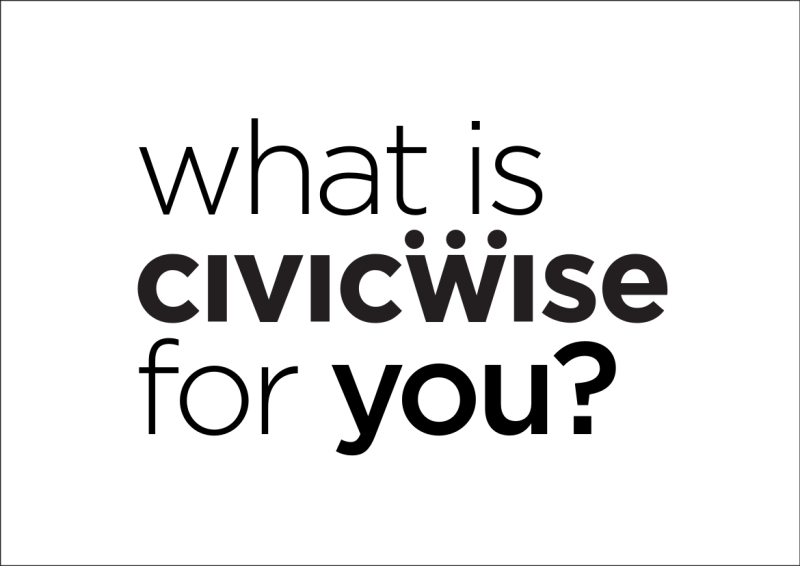 The platform wants to help any citizen or organization to develop community-led projects, providing protocols and tools for a successful codesign process. So far CivicWise have shaped a beta version of a Civic Design Method based on a 10 steps process and it's using it to shape openly and collaboratively the CivicWise platform itself.
The international scale of the project will forge a new useful Civic and Open Big Data for a wider understanding of ways of improving Civic Engagement and of promoting citizen participation.
Another essential innovation is a special rewarding system, offering the members the opportunity to improve their professional reputation (for the urban and social innovation sector) and be part of the Platform Governance.
CivicWise promotes a better collaboration between general public, university, local business and local authorities.
Discover more on: http://civicwise.org
How the project started
I've started thinking about the project at the beginning of December. After some week of work, the first to come on board was Jonathan Reyes (@Ciudad_Basura) whit who I worked from the distance, him in Valencia and me in London. With Jonathan we have shaped the alpha version of the Civic Design Method. Jonathan is part of the collective Carpe Via which is also on board working on the ground in Valencia.
Since the beginning of January I started to talk about the project with a lot of people and finally we create the first London core group formed by Pablo Sendra (@pablo_sendra), Line Algoed (@linealgoed), Fausto Llopis (@FaustoLlopis), Mark Bentley (@framedspace), Orsola De Marco (@OrsolaDeMarco) and me. I think our first meeting/dinner at my house in London has been one of the most important moment for the boost of the project, something like a foundational moment in a way.
Now we are already a community of 200 people. New groups are starting in Dublin, Barcelona and Amsterdam.
The project is open to anyone. Become a CivicWiser!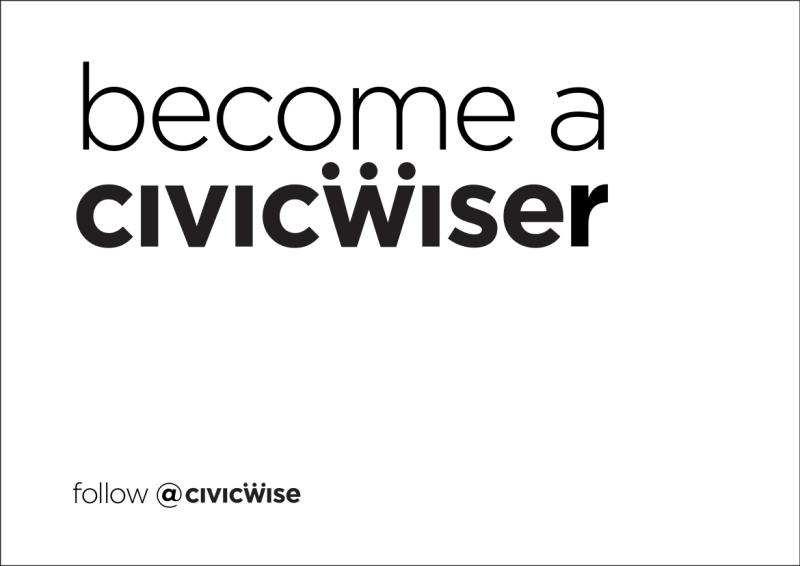 The Kickoff event in London
Wednesday 4th March we launched our kick-off event in London where 45 curious attendees gathered to embrace CivicWise from the very beginning. We designed an event with colours and shapes, wine and nibbles, friendly people and positive messages, all in a once deserted office space in Central London that enabled the conversation to start.
That space was fruit of our collaboration with IITSPIRATION, who managed to secure such an amazing environment for a pop-up adventure. That was our first proper partnership.
On the day, we were gifted with the presence of people who provided a warm and critical advice on how we can move things forward together.
Watch more videos with interviews from the London Kickoff Event.
Beta version of our Civic Design Method
1. OPEN
Telling the idea to other people in order to have a feedback and to understand if is good enough to go ahead with the development.
2. PLAN
Quick Analysis and Research to understand what kind of people and stakeholders are needed to start the process. Plan the following process using the Civic Design Method.
3. ENGAGE
Look for the engagement of a minimum of people that can help with the starting process.
4. IDEAS
Look for new ideas based on the initial one. Make a quick research about similar ideas and experience. This step is understood as an open point when is important to explore different possibilities.
5. DESIGN
Here start the Design phase. This step includes Research and the typical Design element but with a collaborative approach. Here it's time to depurate different Ideas and focus in a final one.
6. DELIVER
Translate to formal document the final Design. Discover what permissions need the development of the project and apply for them with needed documentations.
7. SPREAD
Spread the word around. It's important that the local community knows about the project.
8. (CROWD)FUND
Look for funding, could be a crowdfunding process or a classic fundraising process.
9. BUILD
Get the project done.
10. IMPACT
This final step has the objective to find possible synergies between the realised project and other local realities in order to promote a sort of continuity. Measure the impact and the result and maybe plan to start again another project.
Presentation in Paris
Next 20th april I will be in Paris to present CivicWise at VOLUMES. I hope I can meet some of you there. Please confirm your participation here https://www.eventbrite.com/e/presentation-de-civicwise-tickets-16343196942