As you may already know at the beginning of 2015 I worked with other friends in London to start the CivicWise community in order to promote projects of collective intelligence, collaborative urbanism, citizen empowerment and civic innovation.
CivicWise is an open community in which everyone can participate and exchange experiences and knowledge, creating new synergies and opportunities.
One of its main objectives is to create an archive and mapping of projects, activities, spaces and existing research that may be considered a reference in the field of citizenship capacity for action, collaborative planning and civic innovation.
The first step to build this archive is editing a book entitled Civic Practices. To finance it, a campaign is ongoing in Goteo crowdfunding platform.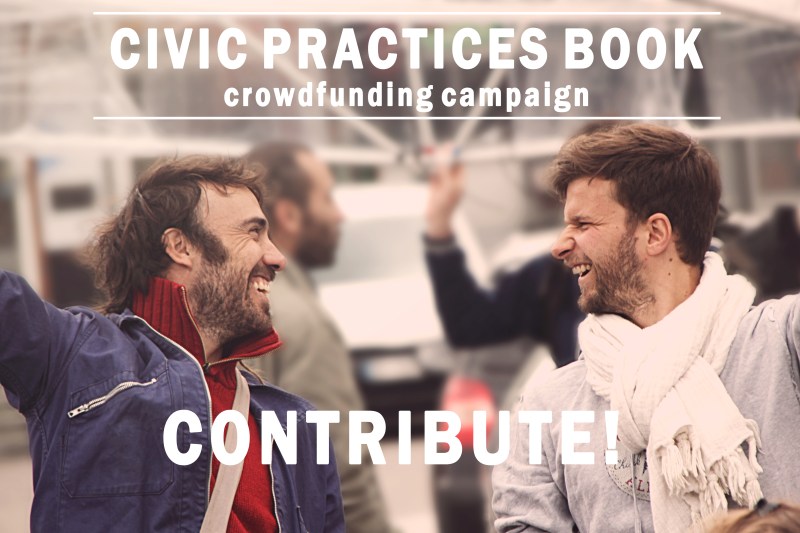 If you want to be one of the first to get a copy of this new book, must visit this site and contribute to the campaign. Before year-end will receive directly at home a brand-new copy. CONTRIBUTE AND GET YOUR COPY HERE > https://en.goteo.org/project/civic-practices
To promote crowdfunding campaign we are organizing a marathon streaming for Sunday June 5th.
The marathon will take place between 12h and 16h (Madrid time).
More info here > https://www.facebook.com/events/1550770328560059/
During the marathon we want to present the projects that have already been submitted to the call and discover new ones.
The session will be primarily in Spanish and English.
We are looking for new projects. If you want to participate, please fill out this form > https://docs.google.com/forms/d/1Y47QPwSgmTQvIm2rE_9tXjttM85n6uopS6y1NwdjD18/viewform
We will be connecting with different projects all around the world and I´m sure we will enjoy a lot the session.
D.